DURING MY TIME WITH THE CHARLOTTE HORNETS I WAS RESPONSIBLE FOR MANAGING AND GROWING THE TEAM'S TIK TOK ACCOUNT.

FROM DAY 1 WITH 0 FOLLOWERS TO JUNE 2022 WITH ONE OF THE MOST FOLLOWED NBA TEAM ACCOUNTS ON THE PLATFORM, I'M PROUD OF THE JOURNEY AND EXPERIENCES THE PLATFORM OFFERED OUR FANS AND MYSELF AS A CREATOR.
CONSISTENCY WAS A KEY BUILDING BLOCK FOR SUCCESS ON THE ACCOUNT. I SET A GOAL BEFORE THE 2019 SEASON THAT WE WOULD HAVE AT LEAST ONE VIDEO PER GAME DAY. THIS ROUGH SCHEDULE KEPT THE TEAM RELEVANT IN THE PLATFORMS ALGORITHM WHILE COINCIDING WITH THE TEAM'S BIGGEST MOMENTS AND MOMENTS OF INTEREST.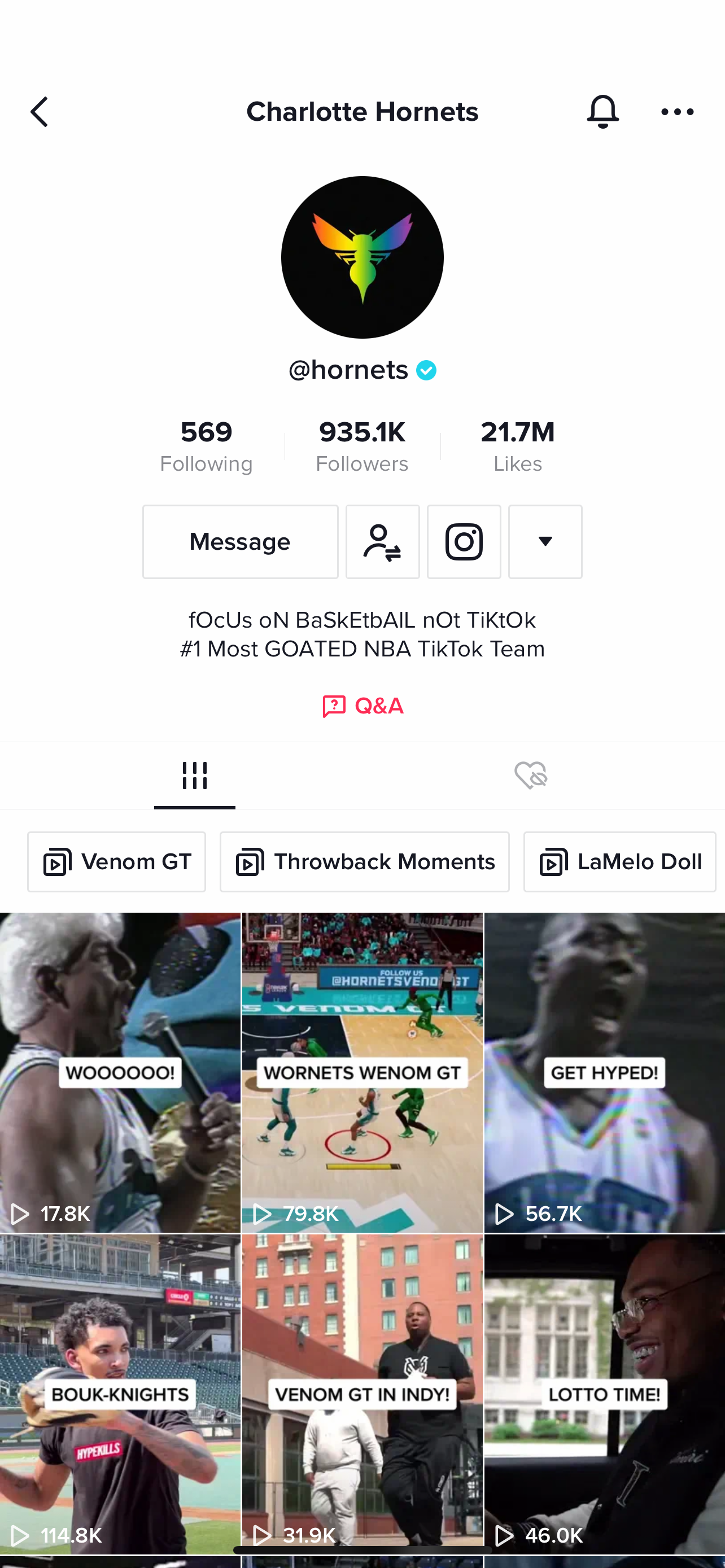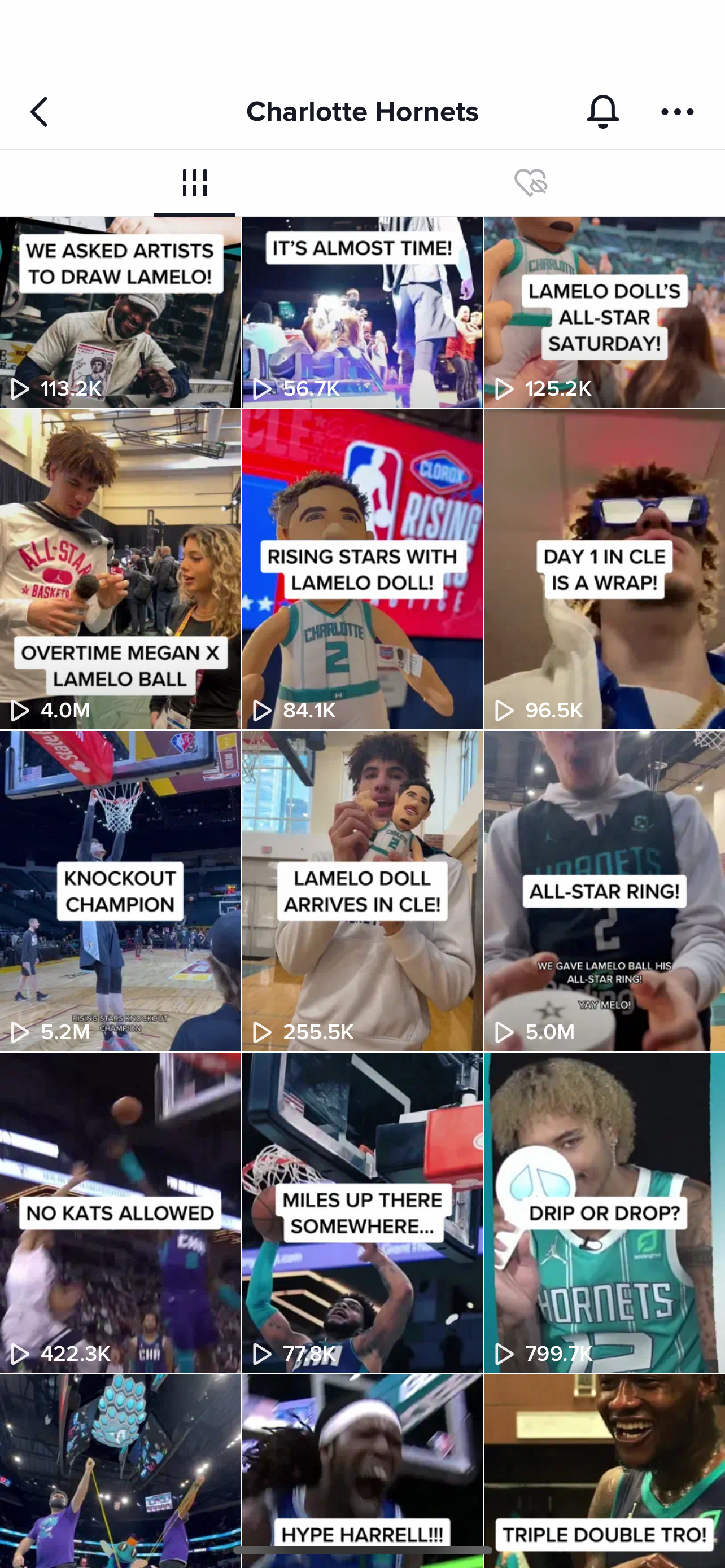 CONSISTENT COVER TREATMENT WITHIN THE APP ALLOWED FOR AN EASY SOLUTION TO UNIFYING CONTENT VISUALLY AND KEEPING THE PROFILE FEED AESTHETICALLY APPEALING.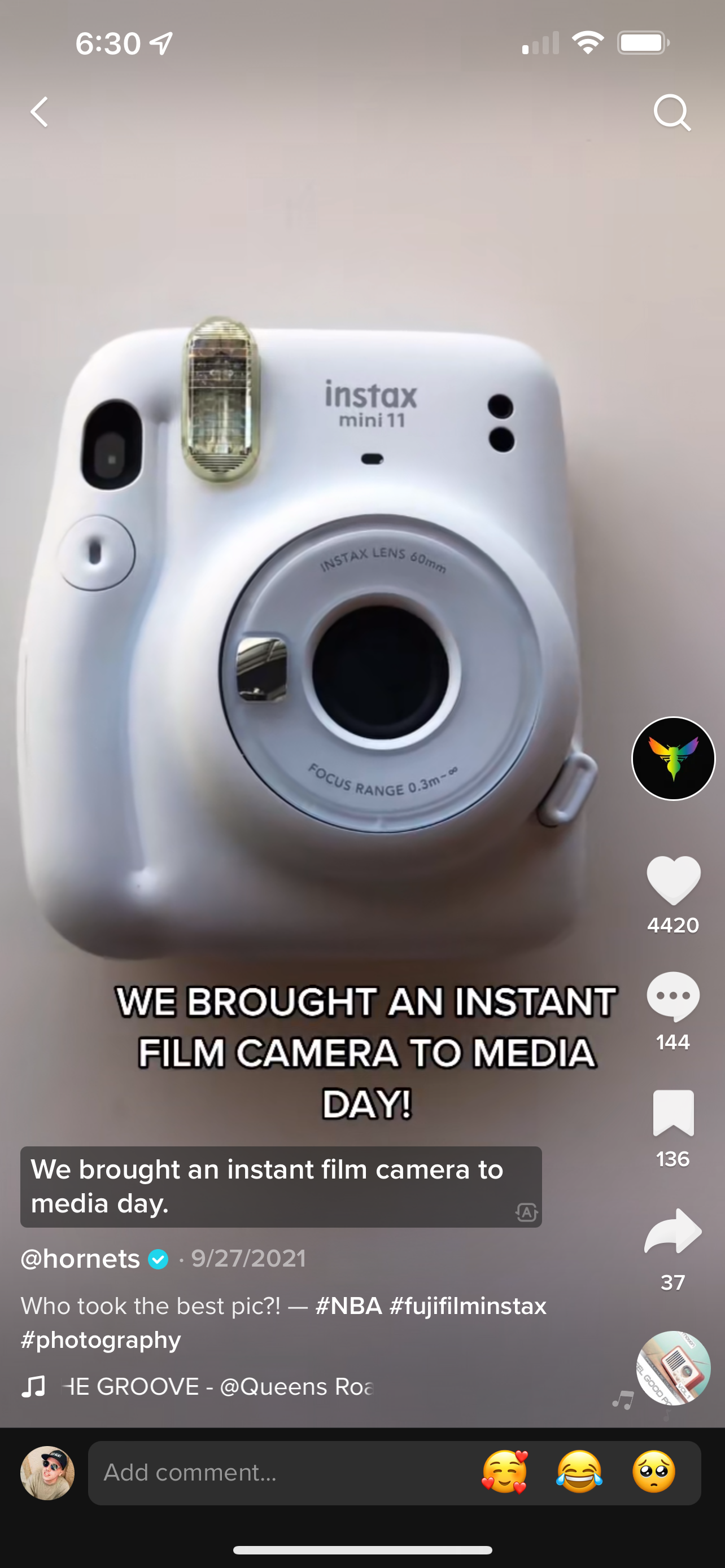 I CREATED ORIGINAL CONTENT SUCH AS THE "DRIP OR DROP" SERIES (ALSO FEATURED ON OTHER PLATFORMS) THAT WAS BUILT WITH THE TEAM'S YOUNGER FOLLOWERS IN MIND.
OTHER OPPORTUNITIES FOR SUCCESSFUL VIDEOS WERE SUPPLEMENTAL TO LARGER HAPPENINGS.
COLLABORATING WITH POPULAR INFLUENCERS (SUCH AS OVERTIME MEGAN) CREATED UNFORGETTABLE MOMENTS FOR HORNETS FANS. THIS ALSO CAPITALIZES ON CROSSOVER APPEAL WITH THE INFLUENCER'S FOLLOWING AND HELPS THE TEAM ACCOUNT REACH NEW PEOPLE.
USING A LAMELO BALL TOY FROM THE HORNETS FAN SHOP ALLOWED FOR CREATIVE IDEAS TO BE EXPANDED UPON DURING 2022 NBA ALL-STAR WEEKEND. THIS WAS POPULAR WITH FANS AND MADE FOR AN UNEXPECTED SERIES THAT DIDN'T NEED A BUDGET OR EXTREME CIRCUMSTANCES. IT WAS A PERFECT COMPLIMENT TO OTHER SOCIAL CONTENT BEING POSTED AT THE TIME.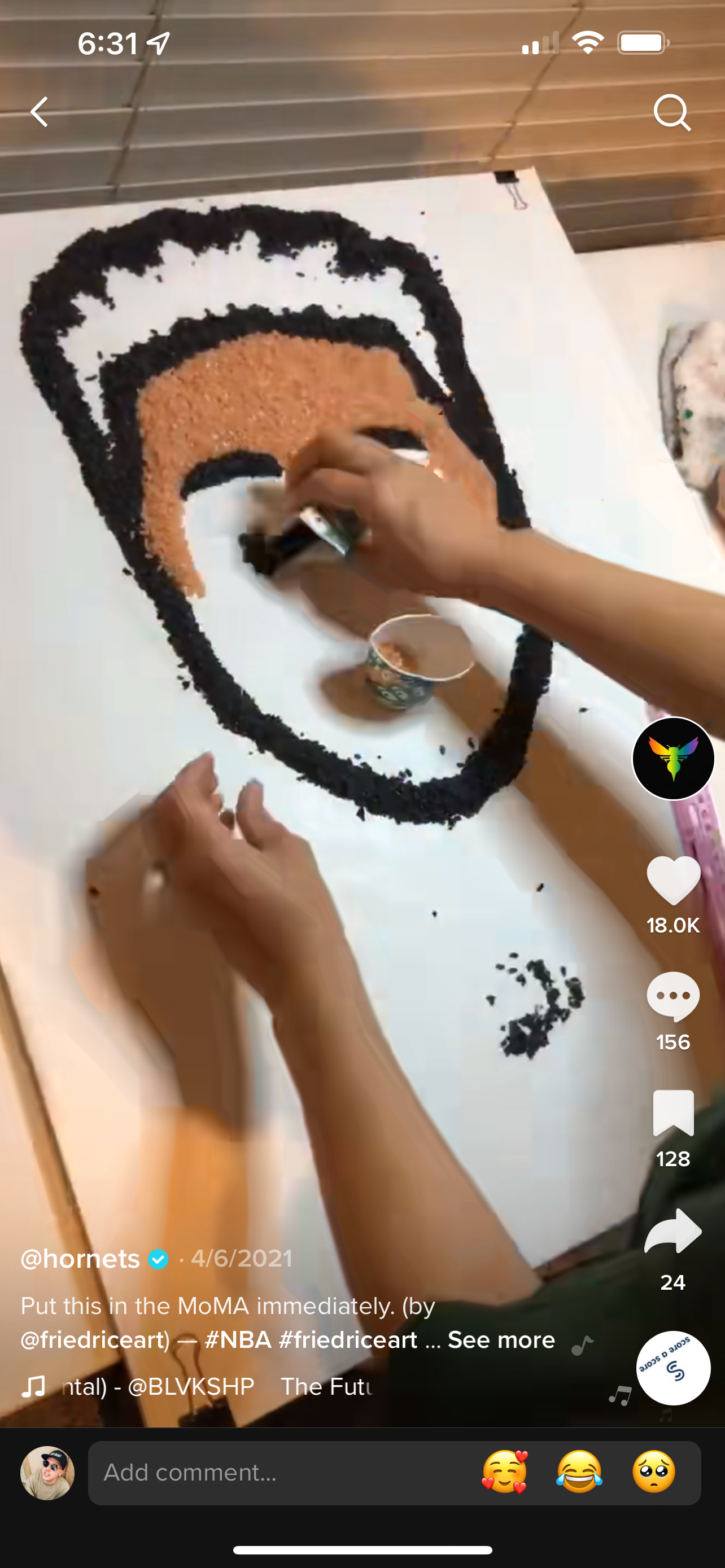 ENGAGING WITH THE COMMUNITY IS VITAL TO THE SUCCESS OF YOUR TIK TOK ACCOUNT. FANS WANT TO TRULY CONNECT WITH THE BRAND AND A GREAT WAY TO DO THAT IS AMPLIFYING AMAZING CONTENT FOUND ON THE PLATFORM.